So you been 2 a couple of raves and you seen a few djs rock a party. And you wonder 2 yourself y couldnt i do that. Well 2 be honest more then likly you can. Now whether you rock the house or not depends on your taste of music and how much you've practiced.
My setup...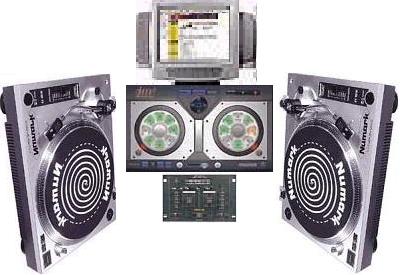 I use a hp pavilion 2 play mp3s, remaster my mixes and 2 run my dm2. 4 a mixer I use a cheap optimus ssm 50 from radio shack. And 4 tables I use 2 (really cheap) Numark tt-1510's. I alos have an old casio keyboard player that i play with ever once and a while.
So what is a dj? A dj or house dj is some who play's 2 records at the same bpms matching the beat 2 make it sound harmonious. This is proably the simples part of djing. The others would be cross fader movments or using your mixer 2 cut and paste sound in real time. And the more advaced skill of skratching.
What you'll find here are some dj tools I have found 4 the computer, including bmp counters, sound editing software, mp3 mixers and more. You will also find some pics of djs from the okc scene. Mad props 2 all you spinners out there.
Below you will find djing tools 4 the computer. Enjoy!!!